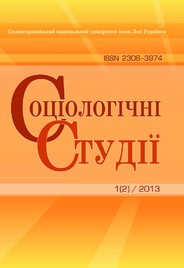 We offer you a journal
SOCIOLOGICAL STUDIOS,
which publishes research on the problems of the theory and history of sociology, the methodology of sociological research, as well as particular social realities in the context of their empirical research.
The purpose of the journal "Sociological Studios" is scientific information, popularization of scientific knowledge, publication of the results of applied and fundamental research in the field of sociology.
We hope that the scientific professional dialogue on the problems of sociology, theory and methodology of social knowledge will serve the further development of modern sociology, the solution of important social issues and will become a factor in generating the thoughts of current scientists and those who are only striving to become a researcher of the sociocultural field.
We hope that the journal will facilitate professional communication, the establishment and expansion of the horizons of scientific discourse.
So, we invite sociologists and everyone who is interested in this science to active cooperation.